WELCOME to
Fenris-arms
Welcome to our showcase website, here you can find information about all our products, where to buy it and contact information. Feel free to take a look at our website, if you want to see our products live, click on the "where to get it" button and you will find our products in these stores.  

A simple knife – that you can trust with your life!
We named it the Triton survival knife because we are Vikings, and we live by the sea so naturally it needed to have a high tolerance for salt, water and all temperatures.

A simple knife – That you can trust with your life! (And hide from your wife!)
Initially we didn't want to sell folding knives, as there is always an increased risk of something breaking when there are moving parts involved.
However after testing this knife for months we feel very safe putting our name on this blade.

This product is still in testing. And will not be ready until spring.
The general idea is to sell a true pocket knife. Something so small that you will actually have it in your pocket, when you need it. Something discrete and world legal. Yet still strong enough to be used.
We appreciate your opinion
We care very much about your experience using our tools, and we welcome you to share ideas and experience with us.
We are just getting started and we need your input to be successful.
We believe that the customer is a part of the team. We hope you will trust us and our tools, enough to let us be a part of your team too.
We are vikings and that means that we travel outside our own port, to bring back the best goods to our own. None of our products are made locally but we put everything through an advanced quality control. If a product is not good enough to go with us on raids and travels we don't sell them. Our brad may cost a little more but we do not except unfair working conditions, working children or environmental sinners and unfortunately these morals are not free.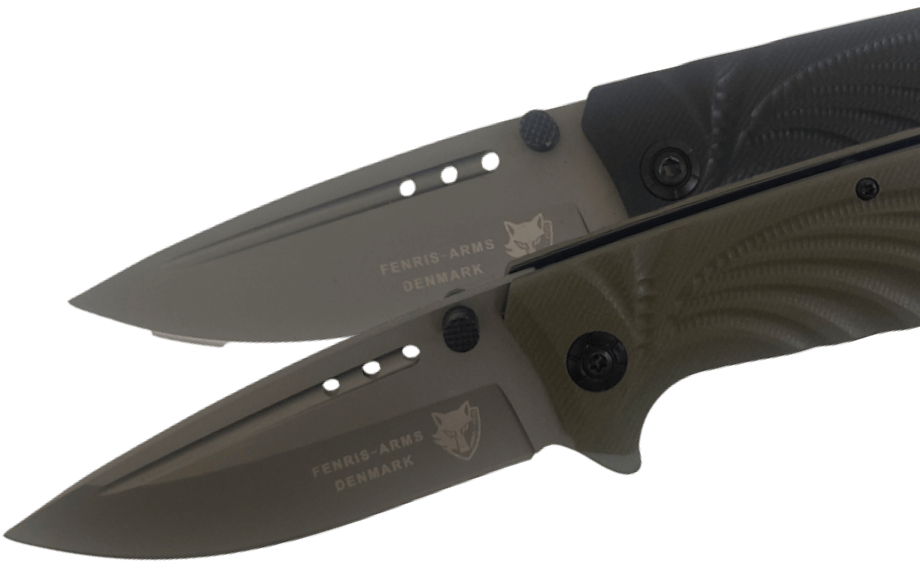 Who is behind all this?   
Fenris Arms is brought to the world by Svend who has a military background with a total of 14 years of active service in the Army and Airforce combined. He has also served in the reserves. He was a boy scout for 15 years and he is a certified first responder. He likes to explore the woods and play with fire.
Kenneth came into the company with knowhow and interest in distribution, e-commerce and the desire to bring great Danish designed products to retailers.
Now they develop the knives together, so you get the best knives for the purpose they must serve.
Svend grew up in the outback on a self-sufficient farm. His father was a blacksmith, his mom was a nurse and his grandparents taught him about nature. He made knives since he was 12 and in an age of 34, he finally put one into production and things just kind of took off from there.
With Kenneths shop, experience with other arms and outdoor equipment, these two make the best team, for you to get a knife that you will use for everything.