A simple knife – That you can trust with your life!
(And hide from your wife!)
Initially we didn't want to sell folding knives, as there is always an increased risk of something breaking when there are moving parts involved.
However after testing this knife for months we feel very safe putting our name on this blade.
We actually did not design this beast. We took one of the longest lasting mechanisms out there and added the G10 grip from the Triton survival knife. We also made sure that it´s legal in Denmark so you can get one without losing your job.
They added some contours to the design to improve the blade strength to compensate for the natural weakness of a folding knife while making sure the knife is still as light as possible.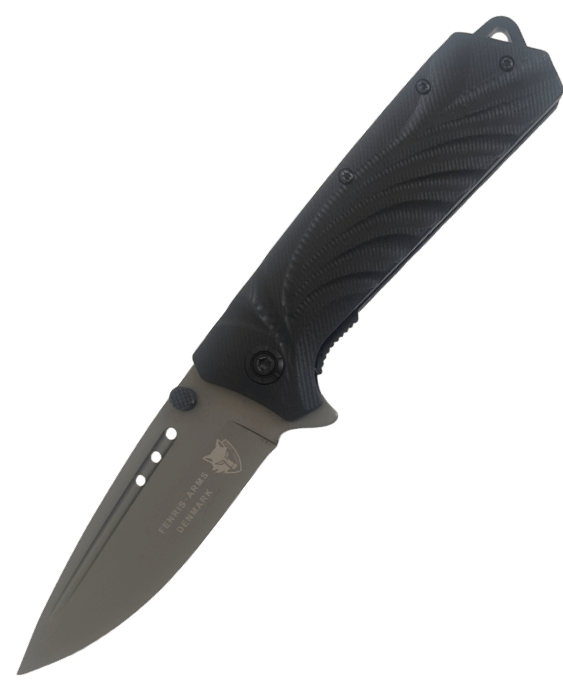 The dimensions where selected to ensure that the knife was small enough to fit in your pocket yet big enough to make a difference when you take it out.
The blade was designed with the intention of giving the user a strong multipurpose folding knife, with a strong tip making to ensure this a grove was placed along the blade to add additional profile and 3 holes where made to balance out the blade. Unfortunately this means that it handles peanut butter poorly.
The blade also has a 90 degree spine for effective use on a fire steel. and a titanium like coating protetects the blade from sparks and corosion.
The lanyard hole at the bottom of the grip is designed to also serve as a glass breaker. We added a finger stop to the blade making it near impossible to close the knife around your fingers.
The steel is stainless and acid resistant (EN 11 4028).